Or "Europe 2012; Part 1" if you prefer. Going over and trying to process the many gigabytes of video shot with my pair of drift HD cameras, I've entirely neglected the photos. It took me a couple of days to get into the habit of taking photos during our holiday last August and as a result I've come away with significantly less photos than the previous years holiday in France. I think a lot of it was down to the long, big mileage days required to actually get to the destination, or at least that's what I began referring to it as in my head while we counted off mile after mile of Belgian and German motorway.
We left Dublin in the early morning after joining with the rest of our 15 or so strong touring group. Interestingly enough, despite all my years in motorcycling, this was my first time touring in a group. We got the ferry to Holyhead and began making our way to the other side of the country. Hull to be precise. There we'd catch our overnight ferry to Zeebruge in Belgium. The cross country run was almost entirely unremarkable. Join motorway at point A, leave motorway at point B. A couple of hours of time to kill afforded us the opportunity to leave the motorway just after Manchester and ride through the Peak District, pretty much following one of the routes I'd taken when I went to the UK for a long weekend the previous year. The Peak District is wonderful. I still can't decide which I prefer, the Peaks or the Yorkshire Dales. I'll just do both every time to save the argument.
After the above sunset, a decent nights sleep (thanks to a few beers and the perfectly calm sea) was had and I awoke the next day to a bit of a double take as I looked out the cabin window.
1. Open curtains
2. See wind turbine
3. Close curtains
4. Think to myself "what the hell, was that a wind turbine?!?"
5. Go to step 1.
It was early, I may have still been asleep. I took a photo through the dirty window to check back on later to see if I really did imagine a wind farm in the middle of the sea.
The truly horrific location on the ship that the P&O deck hands had forced me put my bike in on the previous evening allowed us to leave the boat before the rest of our group. Well, after descending about 4 car decks, finding an access hatch to the freight level, then climbing down a 50 foot ladder, pitched at about 75 degrees. Dear P&O, I'm sticking with Brittany Ferries.
Off the boat into sunny and toasty Zeebrugge. As we were so quick getting off the boat, we selfishly opted not to wait for the rest of the group. It turned out that was a smart move, they were still on the boat an hour later and lost a few more hours at the port due to one of the group falling ill overnight.
We parked up almost exactly in the center of Brugge, making it into the parking spot only a few minutes before roads were closed for some parade, festival, market or something. Brugge is wonderful. I should begin by saying this was my first time in Belgium. Maybe Belgium as a whole is wonderful. More on that later. It's a kind of 'chocolate box' city, or at least the part we saw is. Packed to the gills with tourists, but I suppose that's to be expected.
We strolled around and took a few photos. Or at least Julie did. I opened up my camera case to find a dead X100. Not a great start. That explains the complete lack of Brugge photos. So to forget the demise of my camera on day 1 of the 15 day holiday, we got a very large hot waffle with cream and chocolate. I ended up wearing 80% of both. I think I was still licking Nutella off my hands three days later. At least I hope it was Nutella…
I also figured out what was wrong with my camera. Turns out it helps if you put the battery in the right way. Silly camera manufacturers, stop making batteries that go in the wrong way! Full of waffle and faces covered in creamy chocolate, we headed back to the bike but with the joint agreement that we'd be back to Brugge. Even just for a night as part of a future tour.
Back on the bike and south toward our first overnight stop in the south of Belgium. The first few nights were going to be what I lovingly refer to as 'transit days'. Days you don't really do anything fun, you just get moving. You cover ground. Heading all the way down to Italy as we were, that was a hell of a lot of ground to cover. Sadly, motorways were the best (and sometimes only) way to do just that. The 1150GS Adventure isn't made for motorway travel. I don't think I am either. Both of us are a little too heavy, a little too wide in all the wrong places and neither of us are very happy with a 70mph wind in our faces for hours on end.
We got to our hotel. Several hours later, we left our hotel. There was a bed and a shower. Transit days.
Crossing into Luxembourg was a head scratcher. Road signs changed language about 8 times with no consistency. I feared any minute we'd come upon a 'Welcome to Tajikistan' sign and forced to produce papers we didn't have. Our second night was in a hotel in Luxembourg. Same fare; Shower, dinner, bed.
But aha! Here we go! Into Germany and the Black Forest. Yes, where's the gateaux? As we crossed the Rhine from France into Germany, I got a sense that transit days were behind us. For a little while anyway. We were on the way to a hotel in Baden-Baden, more or less the start of the famous/infamous Black Forest road; the B500. The hotel (Gasthaus Auerhahn) was wonderful. We arrived about an hour before the rest of the group (this was to become a recurring theme), had a shower and clad in shorts and a t-shirt, I retreated to a table outdoors and ordered up my first of the evenings weizens.
Sitting at the table at our roadside hotel, I began to get an appreciation of the number of bikers that travel long distances to ride the B500. The number of bikes that passed me in any hour long period greatly outnumbered the cars, buses, trucks and those lovely people in their camper vans. This could only be a good thing.
Riding the road the next morning, I felt it was a little more sedate than I had been led to believe. Yes, it's a wonderful road and there are some moments where ones cheeks will grip the saddle but it's not really the 'balls to the wall' thrill ride I had been led to expect. Or maybe that's because I was essentially riding a tractor. 2 up. With luggage. It's worth returning to for the scenery alone though. Not much time for photography here, what with keeping up with the group and wanting to get some decent momentum into every sweeping corner.
We made a stop in Triberg, which as some of you may know is the home of the cuckoo clock. No doubt. The place is full of them. Big ones, small ones, fancy ones, plain ones. I can only imagine the din at noon. Aside from the clocks, we were there to see the waterfall. Julie had spotted this some months previous on a Google trawl of the area. Turns out the rest of the group wanted to stop and see it too.
It was a welcome pit stop as even when dressed in my summer finest (biking gear), it was still damn hot. We had arrived into Belgium only a few days previous to temperatures in the high 30's to low 40's. I was caught napping, as the saying goes. I hadn't yet acclimatised to the heat so getting into the shade and within a few feet of a cool waterfall was just the ticket. There was the climb though, practically all the way to the top. Spoiler alert; Once you schlep your weary carcass all the way to the top, you can't really see anything further than 50 feet in front of you. Trees. Lots of trees. They don't call it the Black Forest for nothing.
Some miles later and after some indecision and being split up from the majority of the group, we stopped off at a roadside restaurant that appeared to be popular with bikers (but given the area, I'm assuming everywhere is popular with the bikers). Two very tasty mountains of food later we waddled back to the bike and contentedly finished the B500. Or at least finished the part of it we could realistically do without going miles out of our way.
 We got lost. I can't remember where we were when I took the above but I think my mind wandered from religiously following the GPS for a few minutes and we ended up on a back road. We were on the outskirts of a village whose name I can't recall but it was basically 5 houses and a barn. We do getting lost very well. We always seem to find the nicest spots to stop, get our bearings, have a drink and a nibble of whatever we've got stashed in the luggage and continue on to find our way back to the predetermined route. Julie did a far better job of documenting this location than I did, as usual.
Seemingly all too soon we were back on the motorway, passing Lake Constance on our way to Kempten, where we'd be spending our second and final night in Germany. We stayed in Hotel Fuerstenhof, a great central location in what seemed to be a pretty quiet city. There were legends of a great bar nearby with hundreds of different beers but that never got explored. Have to leave something for the next time I suppose.
My first real trip to Germany was fantastic yet fleeting. I don't count working trips where you  arrive into airport X and take a taxi to location Y as seeing a place. If you counted those, you could almost call me well traveled. We'll certainly be back to the Black Forest as part of a future short haul holiday.
Waking up in Kempten the following morning was almost like waking up in Luxembourg a couple of days earlier. We were finally getting to the mountains. Proper mountains, not just hills  or grassy lumps we'd called mountains up to now. The previous evening, Julie had spotted the tip of an Alp from our bedroom window. That kick started the excitement in a big way. Loading up the bike was performed with military precision and at tremendous speed. We took off from the hotel with a few splitters (hereafter to be referred to as "The Bold Children MC") and followed our routes back onto the motorway and toward the mountains.
Only a few miles later, we came around a long sweeping corner and suddenly, Alps! I fumbled with the video camera stuck to the side of my helmet. The video may have picked up the high pitched whine my face was making from the semi-permanent grin I was wearing since I saw the mountains at the start of the day. The air cooled noticeably, something I was delighted about and hoped for more as we left the motorway and rode into the valley.
No doubt about it, we were in Austria. Perfectly surfaced, narrow, winding roads. So this is where they've been hiding the roads that people write songs about. We snaked through the valley, following someone apparently taking a driving lesson, until we reached Plansee. Basically, a big lake.
The cool water and the sun beating down on us could only lead to one outcome. I don't think I even had time to remove my sunglasses and helmet before the others in our group had stripped off and were heading toward the lake with intent.
To Landeck on Vimeo (in HD).
I made do with taking my jacket, boots and socks off and strolled around on the grass before coming upon the idea of dipping my toes into the water. No, I'm not a swimmer. I ended up a little over knee deep in the lake and immediately understood the benefit of summer riding gear. It's basically a mesh construction with a few strategically placed pieces of armour. However, when you get it wet it stays cool for quite a while. Heavenly. It appears that the members of the  Bold Children MC are the right crowd of ne'er do wells to hang about with.
Our destination was Hotel Mozart in Landeck, a family run hotel in what is quite clearly a skiing town. In fact I think pretty much every town we passed through was a skiing town. Then, rain. Followed by sleet. What the hell was this? Landeck is sitting in a valley and we were treated to daily (well, nightly) thunder and lightning. It was quite entertaining to sit out on the balcony of our room and watch it all unfolding. As we were spending a few nights in Landeck, the cases & all extra weight was hastily removed from the bike to enhance the mountain pass riding experience.
Mountain passes abound! We set off, armed with a picnic and a rough idea of where we were going. But where to have that picnic? Surely there must be a reasonably decent spot around here somewhere?
As I ate my sandwich and tried to take in even a small percentage of the above view, I believe I made some cheesy comment about days like today being the reason I bought a motorbike. The perfect road, the perfect weather and most importantly, the perfect company.
Speaking of that company, she was off taking photos of the dozen or so bunnies a few yards away. Yes folks, this hotel car park had it all. The day on the bike went by quickly and before we knew it, we were back at the hotel eating dinner and sharing stories about what we'd gotten up to that day. 
Some of our splinter group had opted to take the day off the bike, an understandable decision given the length of the days we'd shared to get as far from home as we currently were. We followed a similar line the next morning, opting to get the train to Innsbruck to see what the city had to offer. Truth be told, I was a little apprehensive. I mean, we were in the Alps. There were roads to be ridden. Mountains to be crossed. But then they've been there for a few years now and they'll likely be there for a few more years. In the end I was glad to have a day away from concentrating on the road and reading the GPS directions.
I'm still undecided about Innsbruck. I got the same feeling here that I did when I was spending a long weekend in Amsterdam and opted to go to Rotterdam for the day. It's a nice city and all, there just didn't appear to be much going on.
Plenty of opportunity to get reacquainted with the camera though. And eat lots of tasty stuff. I believe I also had a couple of beers. During the day! The joys of public transport. You've probably guessed by now, Julie did a better job with the city than I did.
When we arrived at the hotel in Landeck, three nights seemed an eternity. Up to now we've been arriving in hotels late in the afternoon or early evening with just enough time to unpack the clothes needed for that evening, get cleaned up, eat and sleep. Transit days were behind us. But eternity ended and the following morning we were packing up again on the way to Italy via one of the best known roads in Europe.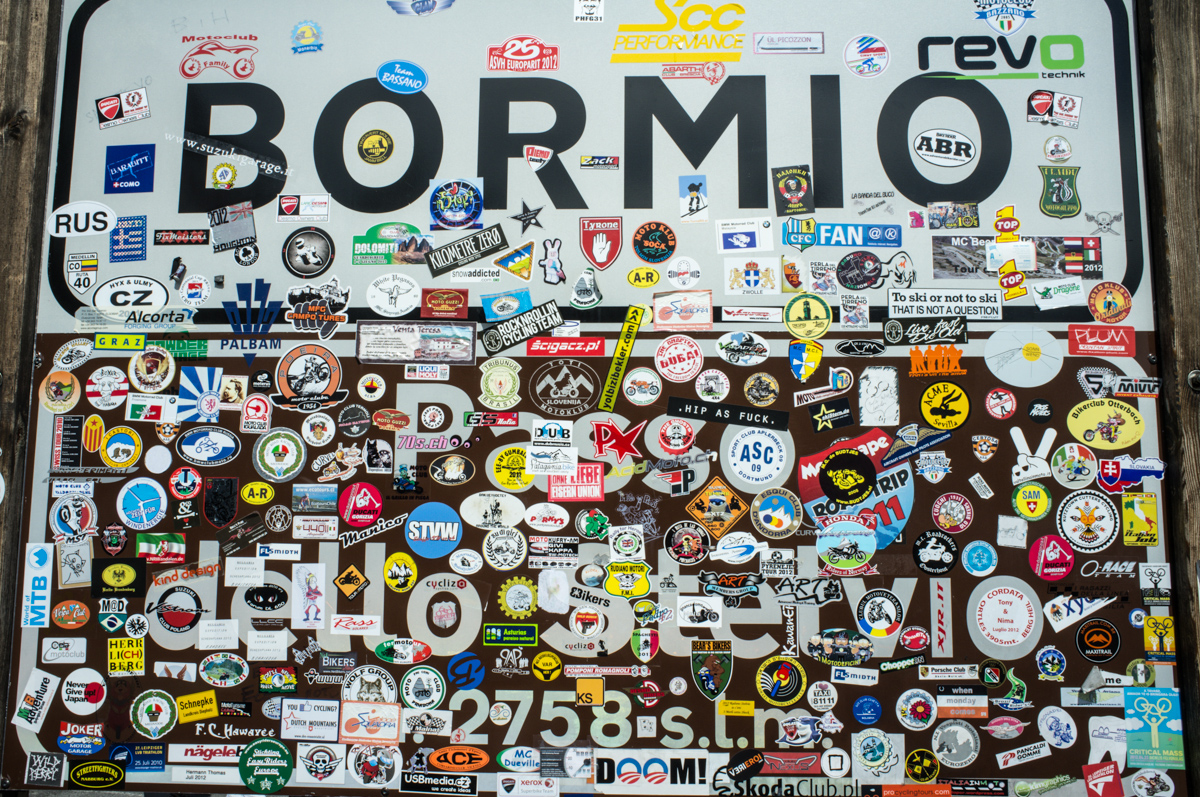 The Stelvio pass. 40 something hairpin turns would be challenging on a heavy, fully loaded bike with two people on it. Turns out it wasn't really too bad, even though the glut of Italian bikers on their shiny crotch rockets attempted to make it a more difficult task by displaying their unique riding style at every given opportunity. Translation; Assholes.
Riding up the north side of the pass wasn't a whole barrel of fun if I'm honest. The hairpin turns came in quick succession with no real distance between them to get up any kind of speed. On reaching the top, I treated myself to what I believe are 'famous' Stelvio hot dogs and took the now almost clichéd photo looking back down over the road just traveled.
Riding down the south side of the pass was entirely more enjoyable. The road had long straight stretches that turned into long bends and swooped through amazing scenery all the way down into Bormio. There were still quite a number of hairpins but they were mostly much wider and spread out. It wasn't so much like trying to ride a motorbike on a circular staircase anymore.  If I was doing Stelvio again, I'd ride up the south side, stop at the top for a hot dog then turn around and ride back down the south side. It was that much more enjoyable.
Stelvio Pass on Vimeo (in HD).
Always a fan of technically challenging roads and near death experiences, I didn't yet realise that the best was yet to come. From Bormio we headed south toward Lake Garda, where we would be spending a further two nights. The route chosen was via 'Passo Gavia', not your average mountain pass for damn sure. There was video taken as you'll see below. There weren't many photos taken, possibly because I didn't manage to prise Julie's fingers out of my back until we returned to sea level.
It was narrow, poorly surfaced in places, full of car drivers with no notion of how to let traffic pass and around every corner you'd inevitably find a cyclist in the middle of the road. It was amazing. A road that was made for the GS. I'd ride the road again tomorrow. Or later this evening. It was a great intro to Italy, another country I'd never been to before.
Passo Gavia on Vimeo (in HD).
As we progressed further south toward Lake Garda, we left the cool mountain air behind us and it began to get oppressively hot. It was back up to around 40 degrees, which in black bike gear and a helmet isn't a whole lot of fun. Thankfully however I was finally starting to acclimatise to the drastic change in weather since we left home. We'd be spending two nights in Hotel Aurora at Lake Garda, which presented an ideal opportunity to leave the bike in the car park and explore on foot.