Instead of writing one of my usual long and bewilderingly boring all-in-one holiday posts (which I've already got half written thanks to some 2am insomnia a few weeks ago), I'll try something a little different this time around. As I've probably mentioned in the past, Switzerland is a country that I've been wanting to stay in and explore more of for several years. I always seemed to bypass it for what seemed like legitimate reasons in the past. Primary among which are that it's always seemed more expensive that any of it's neighbouring countries and the completely incomprehensible language (in the Swiss German speaking parts anyway). Aside from a brief overnight stay in 2012 and a few hours skirting around the border in 2017, I've never taken the opportunity to spend a little longer and explore some of the major mountain passes.
Armed with an attitude of not letting 2020 completely beat me, I found an AirBNB (my first time using the service) near Lungern and booked it for three nights. The above scene was a less than five minute walk from the property. We got the usual ferry to France and over the next two days we hoofed it across the country to end up in the middle of Switzerland. Anything to get some mountain passes in before the nights get longer and the sun disappears until next year.
It didn't start out too well. Our AirBNB host broke the bad news that our first day was going to be very rainy. We were treated to a healthy dose of cold, golf ball sized Swiss alpine rain all the way up the Susten Pass and part of the way back down it. After stopping for coffee with a load of other very damp bikers, I took the above photo of the scene across from the cafe. The rain had stopped, the cloud was lifting and it appeared we were done with the rain for the rest of the day. But at that point in the day, I wasn't going to hope for anything like that. Each dry half hour we got was a bonus.
The weather changes very quickly and frequently in the mountains. The above was taken a few kilometres further down the road, looking back up at where we just were. The photo stops are almost as frequent as the weather changes.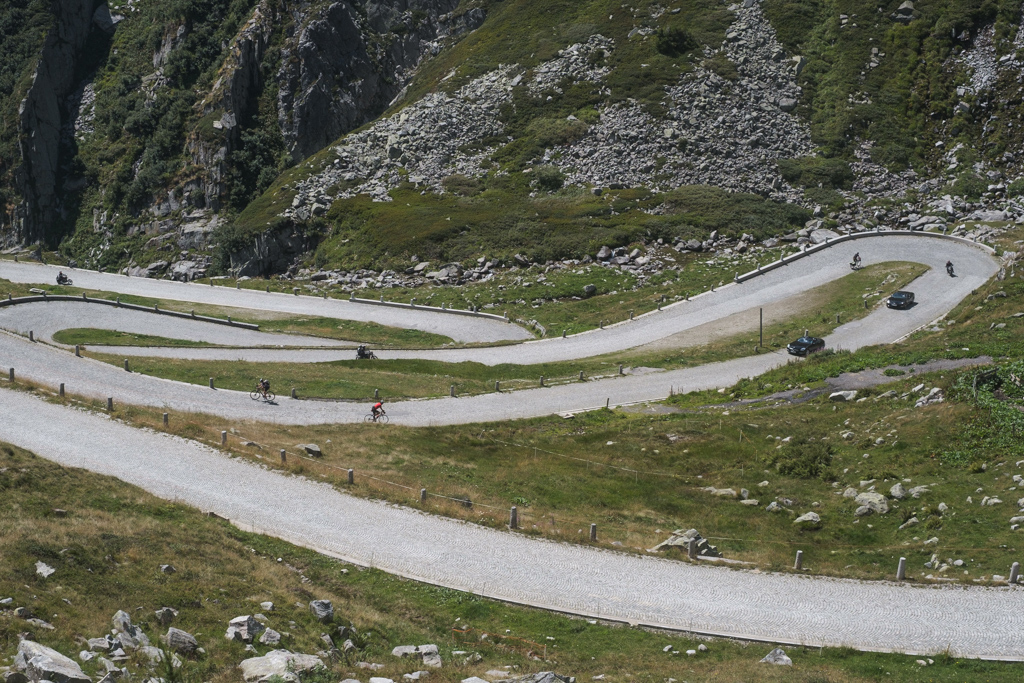 Over the next few days, we made our way around several of the larger passes, or pretty much the only ones feasible to do during a four day stay without riding hundreds of kilometres out of our way. I had of course come prepared with a full list of passes to ride, but they'll have to wait for another time. As I'm so often reminded, those are the kind of trips I'll need to do myself, like the infamous 30+ passes route from Switzerland to and around the Dolomites. Which begs the question, how much beautiful scenery can a person stand before it all becomes a bit boring? I hope to provide a very detailed answer to that question over the next several years.
The passes we were in reasonable range of are Grimsel, Furka, Susten, Tremola, Gotthard, Neufenen and a few more in that general area. Perfectly fine for a relatively short stay and just enough to top up on that much needed mountain goodness.
As our stay in Switzerland was drawing to a close, our host recommended a nearby route which had fallen off the plan because it was part of a larger 8 hour round trip that would have probably turned into a 12 hour round trip. That route, pictured above, was the appropriately named Panoramastrasse. Lots of beautiful scenery and quiet places to enjoy a hastily purchased picnic.
As we were leaving Lungern on our way to Triberg in Germany, I did have to share a quick word of thanks to the magical mountain pixies for keeping the worst of the weather away. Thankfully, it was the exact opposite of the photo above. That was taken near Interlaken on our first few hours in Switzerland. You could have cut the sense of foreboding with a knife. Onward, to the Black Forest!