After two years of delays and many more years of wasted opportunity, we did finally get that Norway trip done. Seven thousand plus kilometers of roads, road works, mountains, fjords, ferries and fantastic fun. Or if you look at it the way I chose to do it, 3000km of motorway across multiple countries and about 4000km of actual Norway. Having the bike shipped directly to Norway from Ireland just seems like cheating. It's not a holiday until you're stuck for 45 mins in road works on the Autobahn in 36 degree heat. Also, you don't get to visit family & drink tasty beers in multiple countries (mostly Belgium) if you ship the bike. It was expensive, but not as horribly expensive as I'd been fearing. It was a few percent above 'the usual', but right now we're so far away from what the usual is, it's hard to judge.
It certainly wasn't our usual summer trip. This year, there was no debate about wearing summer bike gear and no second thought about bringing wet weather gear. Most often we'd be in France or somewhere adjoining a mountain pass in Italy, Switzerland or Germany. It'd be in the low 30's depending on the time of year. Sometimes up to high 30's. Not so in Norway. I think our highest temperature once we departed Germany was about 18 degrees. Not counting the couple of days worth of baking I had riding across the UK, France, Belgium, The Netherlands, and northern Germany in mid-30's weather. We did also see more rain this year than in an average year in warmer parts of Europe. But then the running average for the last few years has been zero rain, so that's setting the bar uncomfortably high.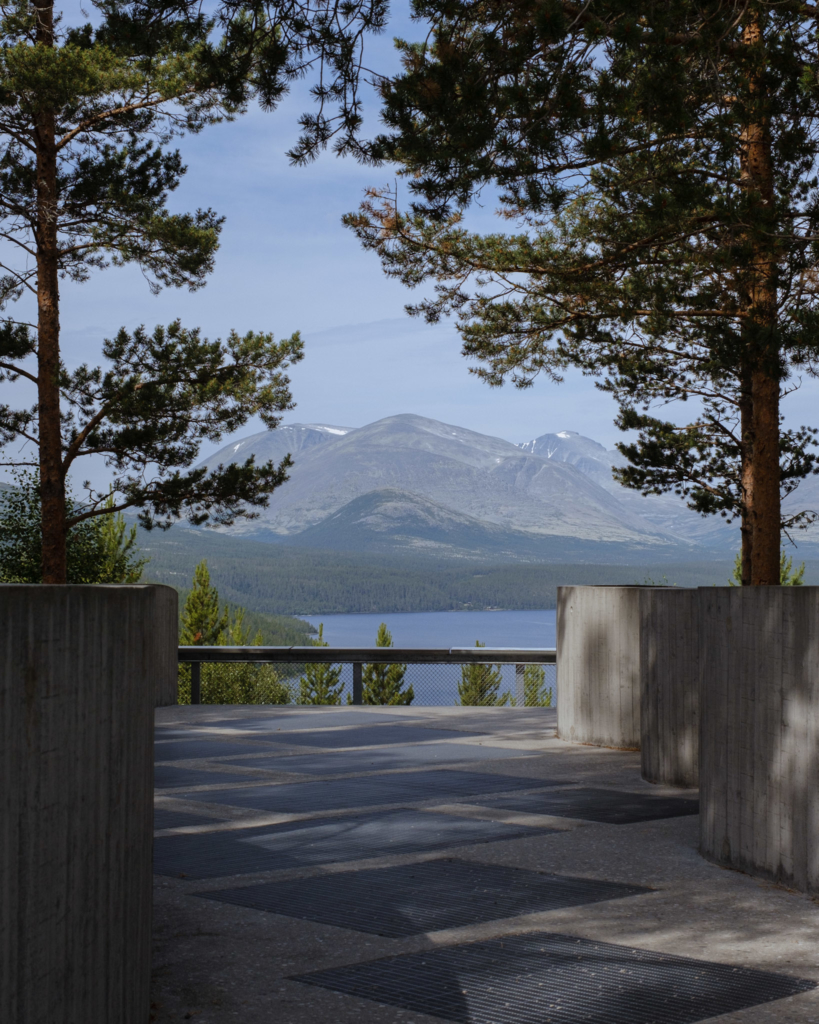 It was possibly the second day before we saw anything that looked like mountains. That's not to say I wasn't already sold on the whole experience though. There was a gentle introduction to fjords and tunnels on the way north from Oslo to Lillehammer, and an opportunity to acclimate to the unique driving style the locals practice. That being, following every rule as if your life (or at least your bank account) depends on it. It was a rare joy to be able to be responsible by doing the speed limit and not have some lunatic trying to shave rubber off my rear tyre with their front bumper. But then I did have the recurring feeling that I was holding people up by being a good boy and following the rules. Trundling along at 60kph on a perfectly paved road with no traffic directly in front of me and a car or two behind me, I was often tempted to bump the cruise control to 62 or *gasp* even 63kph to move things along a little. But if I did, I would inevitably start pulling away from the car behind. The vast majority treat politeness like it is an Olympic sport, one which they're guaranteed the gold medal. It doesn't stop there though. Everyone we spoke to seemed to be ruthlessly helpful and accommodating, especially when they figured out we were dirty foreigners and hadn't a word of Norwegian in our heads. I was, as the kids might say, shook.
The further north we went, the more the numbers of those nice local folks started to thin out. Along with the traffic, and everything else. Once we got past Trondheim, it was all just rolling fields and fjords. Oh look dear, there's another mind-alteringly beautiful fjord. While on the other side of the road there was a mountain view that'd make Ansel Adams wet himself with delight. It would continue this way for several more days. I'm not sure if it's possible to get burned (burnt?) out from being in a constant state of amazement, but I was close. Quite a few times, I was even closer than that.
After a few long days, we reached our most northerly point for this trip. Mo i Rana. It's pretty much the stop of record for the casually adventurous biker who isn't intending to ride a further 1500+ kilometers north to reach Nordkapp. We spent a couple of nights at Mo, venturing a little bit further north during our stay to take in the all important crossing of the Arctic Circle. Take a photo, buy a Moose. That kind of thing. I'm glad that the wind didn't have the same effect on poor Harrison Fjord's hair as it did on mine. It almost looks like I did it on purpose.
We were also now well and truly in the land of the midnight sun, which was messing with my brain in not too subtle ways. Being full of beans and ready to go out and do something at 11:30pm because it's bright outside is a strange experience. That was mostly put in it's place by needing to be up at 7am the following morning to do another 500km / about 8-9 hours on the bike to get to the next stop. From Mo i Rana, that next stop was about 6 ferries away so an early start was crucial to hit some very tight timetables.
The day of ferries wasn't without stress. So much so, that the last ferry was vetoed in favour of just being on a predictable path to the hotel. I can't remember if it was the second ferry of the day or the fourth, but we made it with literally seconds to spare. If we'd missed it, there was a two hour wait for the next one. Not usually a problem if there is an alternate path, but very much a problem when the only way off the tiny island you're now on is by ferry. I'd do it again though, don't get me wrong. Terror focuses the mind.
We continued south via Namsos, then Alesund and onto Bergen. Awkward side note here for the "Atlantic Road". We went out of our way by quite a bit to take this in and although it's quite a sight, I don't think I'd bother next time. It's basically a bendy bridge surrounded by thousands of tourists that never learned to park. It is, in my opinion anyway, horrifically over hyped as a place to see. That's it. Onward. We spent two nights in Alesund but only one in Bergen. The first trip to a new country is always a bit of a scouting mission. I'd definitely spend a bit longer in Bergen next time, even if it was a pretty expensive place to hang out. Alesund was fantastic and is definitely on the list of places to go back to for longer than a couple of nights. Just as much because it's convenient for a few of the top spots to take day trips to. Geirangerfjord and Trollstigen. The fairly short but impossibly scenic ride up to the top of Trollstigen is below.
The weather was interesting here. We were in and out of clouds every couple of minutes and trying to not get wiped out by folks that didn't understand how to drive their cars around bends.
South and south again, around the jaw dropping Hardangerfjord to get a glimpse of that mad tunnel full of crazy lights and with a roundabout in it. Take it at face value, it's not really something you'd pay to go and see. What is interesting is the Hardangerjford bridge, where you're spat out of a tunnel on the side of a mountain high above the water onto a mahoosive suspension bridge. Quite breathtaking. A little taste of both of the above is below to satisfy your curiosity.
What wasn't so breathtaking was getting another 35km down the road and then being told the road was closed and the only ferry out of the area had a multiple hour queue. "Best to go back to Kvanndal and get that ferry" said the very helpful guy who was charged with delivering the bad news to hundreds of tourists that day. So backtracking the 35km to Kvanndal and another opportunity to see the crazy bridge, the tunnel with the roundabout and all that. Finally back at Kvanndal, we met a very stressed out lady who was trying to organise the nailing of various jellies to many walls. "You probably won't get on the next ferry, but you might get on the one after that"… "In about 90 minutes". Surely not, after all a bike will fit in any space I wish to fit it into. It was here I met several Irish bikers who, in the true sense of Irish hospitality, didn't seem overly interested in chatting with anyone outside of their group.
Longish story short, we made the first ferry. When we got off on the other side I met the Irish bikers again who seemed intent on overtaking everything and everyone in and on roads places they shouldn't be overtaking anything or anyone. Not very in keeping with the Norwegian style of riding I'd now fully adopted. I was glad to see the last of them blast off into the distance instead of being stuck behind me. It was very much interfering with my ability to ride at a reasonable pace and marvel at the scenery along the twisty country road.
Next, Latefossen. An opportunity for some drone if ever I saw it. No photo from ground level could do it any kind of justice. Being careful not to fly the drone over any groups of people, I opted instead for the path over the river before getting some altitude to take this photo. A photo which almost caused me to reverse the drone into a nearby tree while trying to fit all the good stuff into the frame. I vowed then and there to upgrade to a model with obstacle sensors. A vow which has since fallen by the wayside, which I fully expected it would.
We were heading toward Kongsberg (not too far from Oslo) but given the time we lost en route due to the road closure, neither of us fancied venturing out in search of food. The only sensible option was to stop at a supermarket on the way and stock up on the items required to hold a hotel room picnic. The next morning we were leisurely travelling back toward Gothenburg to get the ferry to Germany, which concludes the main part of the holiday. Because I seem to naturally split holidays into sections to properly classify my disappointment if something goes wrong. Reverse motorway trip back to Ireland was briefly halted by an overnight in Bruges, because that's where all the tasty beer lives.
Only when we got to our quiet, comfortable hotel in south Wales did I say what I always seem to say on either side of the UK. I am never travelling through the UK/channel tunnel again. It's just not worth it. Tune in next time, for another trip through the UK and another thinly veiled threat to boycott the entire country for no good reason.