After the huge trip to Italy and back (with a lot of detouring in between) last year, holidays this year were going to have to be a little more low key. Don't get me wrong, I was still all for a week or two in France but wedding savings said no. So instead, we decided on something we'd wanted to do for a long time; go to Cornwall! After all, pasties and cask ale. It sold itself well in advance of the big day.
We arrived into Holyhead around noonish and had whole afternoon to travel the length of Wales and make it to Bristol where we'd be spending our first night with Julie's friend. Wales, as it always is, was perfect. The route from Holyhead to anywhere in south Wales is now set in stone, taking in sights like the below.
Photos from the rest of the evening are sadly lacking. Dinner was in a Bath Ales pub. I don't really think I need to elaborate. I was completely taken with Bath Ales since I picked up a couple of bottles in Sainsburys quite a while ago.
Many pints were had. It was the fear of beer becoming suddenly and inexplicably unavailable that drove me on. The usual dining argument "you don't have to eat it all" that Julie uses on me when I'm already groaning about over eating never really holds when beer is involved. I think she's more sensible than to say "you don't have to drink it all". But beer. Beer!
The next day we were back on the road at a reasonable hour. The weather had turned to crap. Not the worst kind of crap; Just grey and overcast. Not holiday weather. We headed down toward Plymouth although we were both quite eager to avoid it. We were armed with a list of stuff we should see while we were traveling and the cable ferry from Devonpoint to Torpoint was one of those things. The few minute wait for the ferry to arrive left me enough time to fumble around in my pockets for a few quid of change, an activity that turned out to be completely redundant when I saw the fares. If I remember correctly, we ended up being charged about 50p for the journey. I eh, ok. no argument.
By this stage we had already passed through Dartmoor. As we approached the area, the fog got thicker and lower, giving a wonderful 'axe murderer' feeling that seemed just about right. My last experience of a UK national park (apart from just having come through Wales of course) was in the Yorkshire Dales and the Peak District a year or two previously. Both hilly, picturesque places full of winding lanes and tiny villages with suspicious people in them that stare as you pass by. Not really so much in Dartmoor though. Granted we didn't really have a lot of time to explore the area and the weather wasn't really conducive to a lot of stopping and strolling about but it was more or less one long straight road to the other end of the park.
There were some scenic breaks in the trip though.
The next nights stop was in Charlestown, just outside St. Austell. As I usually end up doing, I chose the 'interesting' route to Charlestown. 'Interesting' meaning down every narrow winding grass track I could find. We ended up at another ferry (by design I should add), the Bodinnick to Fowey service. The price of that relatively short run made up for the earlier fare we'd paid just outside Plymouth.
Some more country lanes and almost being flummoxed by farmers with tractors the entire width of the road, we ended up back on the A roads and soon thereafter in Charlestown itself. The B&B was great, run by a fellow BMW biker (hereafter to be called the biking elite and/or the worst biking snobs in the world) and his wife. We got some food in a nearby cookie cutter St. Austell pub (as in, they all look the same, serve the same food and have the same great service) and after a few pints, retired back to the B&B to plan the next days adventures.
Those adventures were starting in the Eden Project only a few miles up the road. The damp, soggy, overcast Eden Project. Damp on the outside anyway, hot and sticky on the inside. I had the best of intentions to do the zip line that ran several hundred feet over the domes but given the weather, the incentive wasn't really there. After all, I could spend the next few hours on the bike getting equally soaked and sprayed in the face. That wouldn't cost me as much as the zip line adventure would either.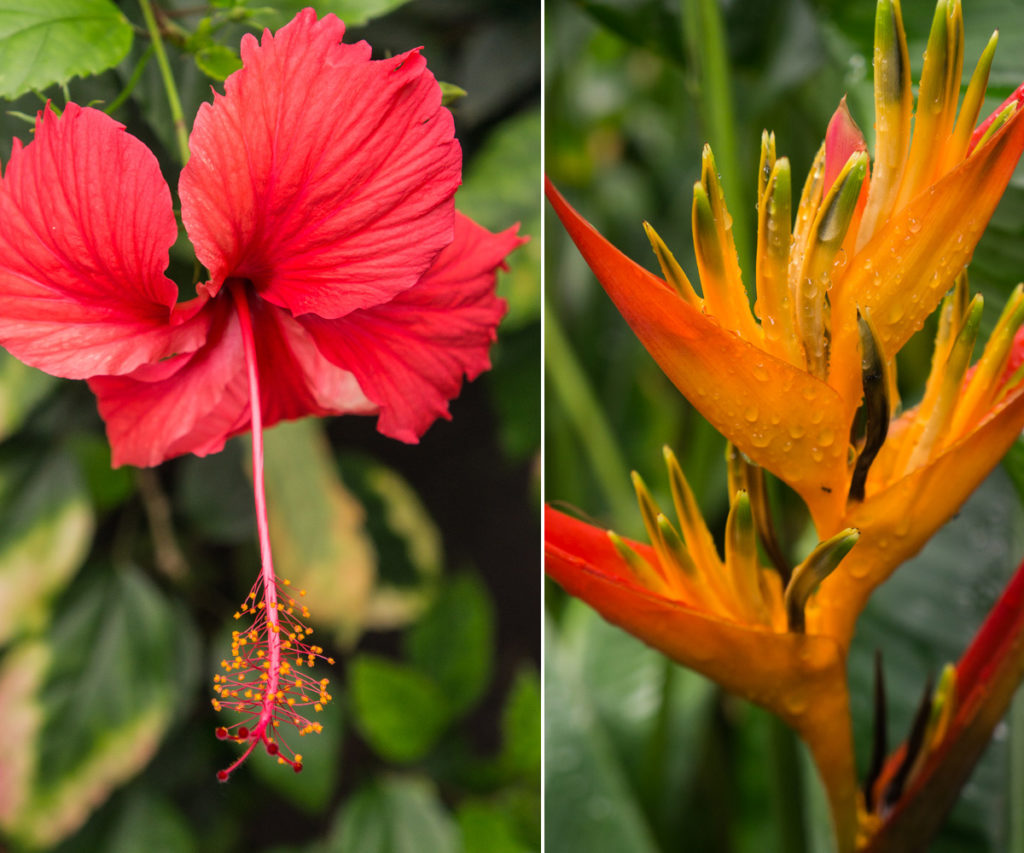 Once inside the dome (and taking a moment to get used to the size of the crowd in there) it was all good. There were two domes as you can spot in the photo; One was decidedly tropical (i.e. hot, sticky, unpleasant) and the other more Mediterranean (i.e. dry, warm and entirely more pleasant).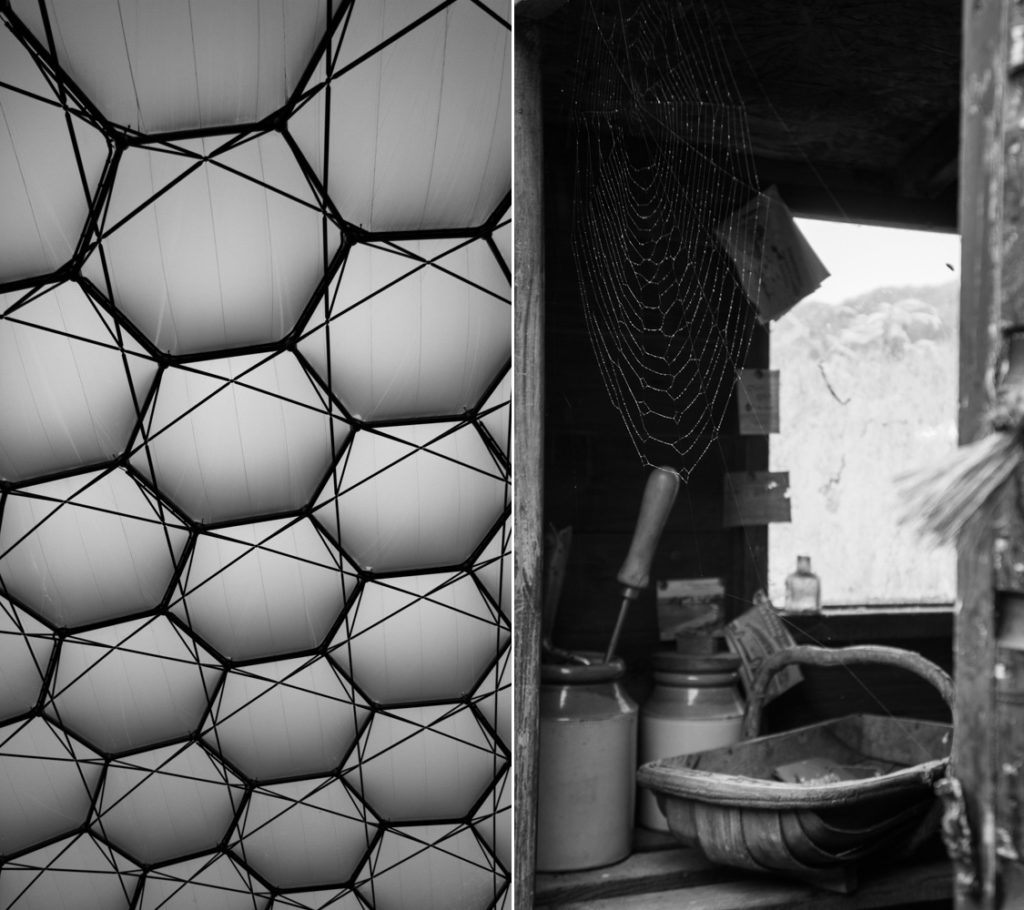 There was also a suspended walkway that brought visitors to a platform just under the roof of the dome. I was looking forward to having a go for almost the entire walk (death march) around the tropical dome but became utterly deflated when on reaching the end of the queue for the activity, it turned out to have a 60-80 minute waiting time. Standing around for an hour or more in this heat? No ta.
After a pit stop for refreshments and a walk around the other dome we braved the outside world again. Yup, still raining. I found some hops. Lots and lots of hops. "Some day" I thought, "Some day when I have a garden, there will be hops upon hops upon hops". That's the kind of gardening I can really get into.
As we climbed back up to the exit, the above view presented itself. I can imagine that on a pleasant summers evening it'd be great to attend an event here. Sadly, pleasant summers anything this was not. So we hauled on all the bike gear again and made tracks.
We only had a relatively short break so stops had to be planned carefully. We had originally intended to stop somewhere (i.e. a pub with lots of casks) on the way down to St. Ives but once some thought was put into it, we decided the better option was to head direct and spend two nights in St. Ives instead. Turned out to be a wise choice. Why St. Ives though? Well, it's almost at the end of the world so we couldn't have gone much further. I had also considered Penzance but after riding through Penzance, I'm very happy we chose St. Ives. Also any time I mentioned where we'd be going my mother would say something like "Oh you have to go to St. Ives" as she'd been there many years ago with my dad. So why mess about, we'll just stay in St. Ives.
Finding a B&B in the town with space to park a bike outside was an interesting task. Most of them either didn't have any parking whatsoever or weren't inclined to allocate what little parking they had to a motorbike. So given how protective I am of the bike, we ended up just outside the town. To summarise our stay in St. Ives; Pasties, cask ale, fish & chips and cream tea. I could also stick 'seagulls' in there, but as we didn't actually eat a seagull it might have looked out of place. Fish & chips on the beach was cancelled and instead we sat inside. The seagulls were numerous and belligerent. Some the size of a small family car.
Up to now the weather had pretty much stuck with us. Grey and overcast with the odd drop of rain. Far from the sunshine and heat we had riding down through Wales. We had resolved to go riding around Lands End the next day so it was fantastic to see blue sky and sunshine that morning when I stuck my head between the curtains.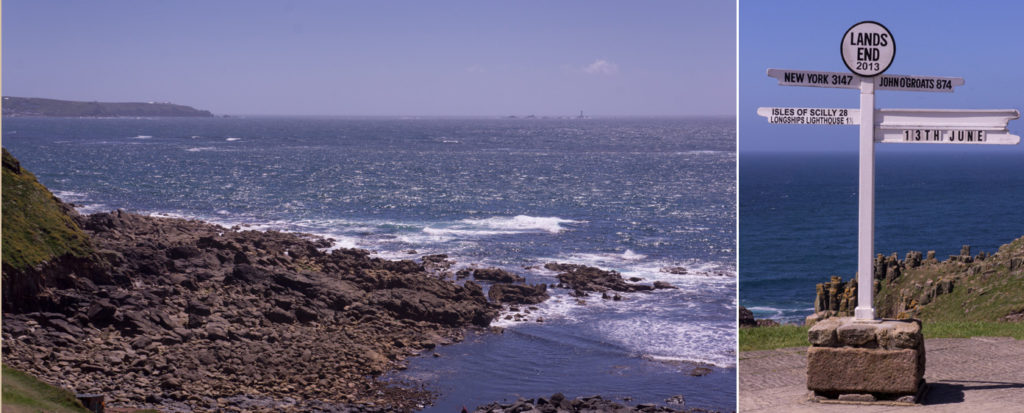 We made it to Lands End and several more places on the list we'd been given back in Bristol. Perhaps the most spectacular of which was Minack Theatre, perched high up on the coastline, carved into the rock. Should you ever find yourself in the area with an hour to kill, I highly recommend it.
The weather stayed with us all evening as we made our way back to St. Ives and enjoyed our gourmet fish and chips in a decidedly upmarket spot along the quayside.
All good things must blah blah blah but not before we had some cream tea. I would have possibly been executed without a fair hearing if I had returned home and reported that no, we did not stop for cream tea.
After that full fat interlude, we had to be on our way. There was a ferry to catch the next day in the very top of Wales and so, lots of miles to cover. We rode up the coast as much as possible, taking in some fantastic scenery and very steep hills along the way.
Our stop for the night was in Brecon, Talybont-on-Usk to be precise. The Malt House to be even more precise. It was booked primarily because I didn't want to be bothered looking around for B&B's in the area for hours while I was supposed to be working. Turns out I couldn't have booked a better place if I'd tried. The B&B was fantastic, on a quiet road in a quiet area only a few hundred meters from the A road. But wait, there's more. A proper pub across the road. Proper like 8 beers on cask proper. After dinner, I set about making a dent in the cask collection. It was a nice surprise to end a great week away.
No surprises that our last day trekking towards Holyhead was spent on the now well worn bike route to Anglesea. There are just a few roads that the bike always seems to want to go down whenever we find ourselves in Wales. Who am I to argue?
With the coast of Dublin in sight from the ferry, alas the holiday was over. Back to Ireland and back to the grind. Until the next one I suppose…