If it seems I've only just written a blog entry about our 2015 trip to France, it's because I have. The same thing that kicked me into motion to write that entry has prompted me to write this one about our 2016 trip (to mostly the same places). The 2019 trip will again be to many of the same locations, because if it ain't broke, don't fix it. July to see lavender in full bloom, then to retreat into the mountains for a few days of not being boiled half to death by the weather at sea level. Although this year will be somewhat different in that it also facilitates the escape from and celebration of a milestone birthday.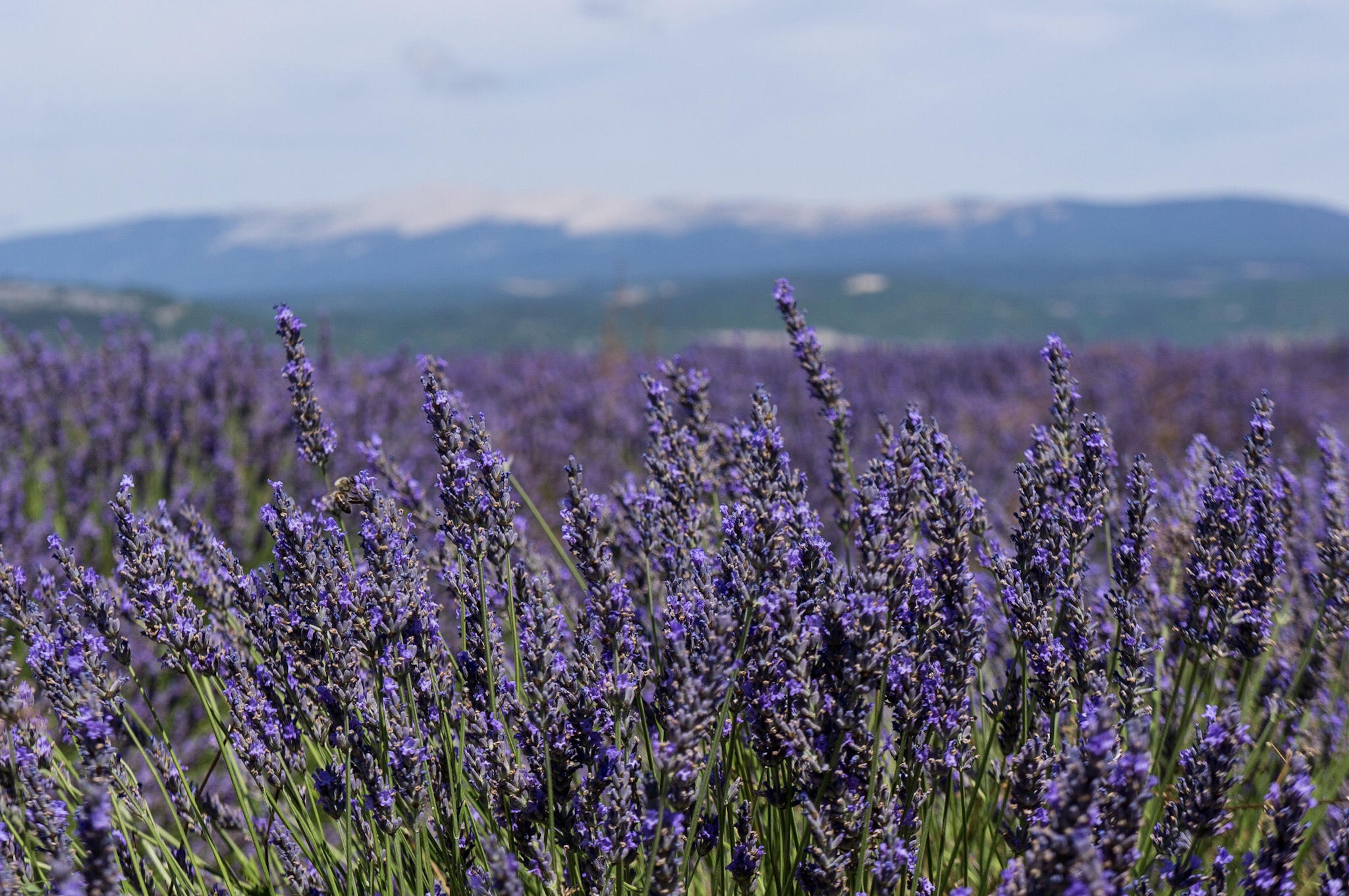 It was pretty standard fare, so much so I can't recall a lot of it. One way ferry from Cork to Roscoff, followed by a couple of days of cross country motorway travel to get to the fun bit. Thinking back, the most memorable part of the cross country trip was our stop at Sainte-Etienne. Only worth recalling due to the shockingly bad hotel restaurant. When the food did finally arrive (burgers, pretty difficult to get wrong you'd think), they were burnt on the outside and entirely raw inside. I had to double check that we hadn't somehow ordered steak hache from a confused chef, with a side of burger bun.
I did however discover a stupidly useful new skill, mostly due to the imagined horror of not being able to get into a bottle of sweet, sweet Sauternes wine. Turns out that there's a dual-use tool in my puncture repair kit that will get the cork out of a bottle without much effort at all. I present exhibit A.
Onward and downward, to the heat and the most lavender I've ever seen. Riding around Provence, the smell was everywhere and it was amazing. I'm looking forward to that again this year. Even if it means I'm spending most of my time when not on the bike hiding from the sun.
While down south, we stopped at Moustiers-Sainte-Marie, a curious little town that seemed to be a cross between a location for a religious pilgrimage and a tourist trap. A lovely little town all the same and an ideal stop for an evening.
From here, we ventured further south, potentially as far south as it's possible to be in France. From Moustiers to Castellane via a little bit of Verdon Gorge and on down toward Grasse.
Kept going beyond Nice (pictured above when we stopped for the French custom of le pique-nique) and along the (almost) coast through Éze. It was only by the best of luck and some split second road sign recognition that we avoided going through Monaco, an experience I'm told isn't all you'd imagine it's cracked up to be. If I want to see rich folks poncing around with hyper cars, I'll observe them from a safe distance, through some high magnification binoculars.
We found our way down to Menton and along the beach front road, where I stopped and offered Julie the opportunity to wade through the shimmering and undulating mass of people packed onto what beach there was available, in order to dip her toe into the Mediterranean sea. She didn't take me up on the offer and with the heat being what it was, that's probably a good thing. I was about half a minute away from paying big money to go face down in a bath full of ice. One of the reasons I'd wanted to come to Menton in previous years is that it's the start of (or the end of) the Route des Grandes Alpes. The huge stretch of mountain passes that brings you from Menton (obviously) north to Thonon-les-Bains, on the shore of Lake Geneva. But we had some more immediate plans. Namely to get into the mountains for some cooler temperatures and then at some stage to find our lodgings for the evening.
We were on the way to the tiny village of Roure, perched on the side of a sheer drop, as most things are in the Alps. Specifically, to Auberge Lo Robur, a fantastic and relatively small guest house with a Michelin star chef. Or at least that was the blurb if I remember correctly.
It's a fancy affair and somewhat outside the usual, but it was decided that we'd just need to try it. I think if I was to go again, we'd have to go for the full-on seven course menu. Purely for practicality of course. For those who decided on anything less, there was an excruciating wait between courses. But the food (and the wine) was bloody good. The view from our table wasn't bad either. We even had a visit from a Chamois goat, rather precariously perched on a nearby mountain ridge. Dinner and a show, the place had it all. Also worth a mention that all the staff were fantastic.
As if all that wasn't enough, the toilet in our room had the most outstanding 'poo with a view' that I've ever seen or will likely ever see. 10/10, would poo again.
The next morning was a quick and valuable lesson. Something along the lines of "you're in the Alps now, you need to plan your fuel stops more carefully". With the bike computer estimating a range of about 15km and the GPS telling me that the closest petrol station was 20km away, I took the decision to leave the bike in neutral and roll it down the switchbacks, all the way to the valley we'd climbed up from yesterday afternoon. A journey of about 10km. So thoroughly impressed with myself that I managed to pull off such a daring feat of fuel economy, I completely forgot about the need to get petrol by the time we arrived at the petrol station and almost passed it. The Alps; Fill up early and fill up often. Or just don't be a knob and ignore the fuel gauge until it starts flashing at you.
From there, north into the Alpine passes and standard mountain photography began. Not very much of it, the focus was more on the road and riding the balls off said road.
The riding of balls off roads needs to be interrupted by other things, like eating and sleeping. So we made our next stop in Valloire, on the north side of the Col du Galibier. It is, as you might expect and like the vast majority of everything else in the area, a town catered to winter sports. So it's a town that doesn't really know what to do with itself during the spring/summer/autumn months. I was expecting a completely abandoned ghost town of a place before we arrived, but was glad to see that there was still a surprising amount of life in the town. Those mad folks that do stuff that requires lots of energy, like walking and cycling. So maybe not so much a town that relies on winter trade. It's easy to assume. While riding around on mountain passes, there are dozens of similarly sized places that just shut down for the non-winter months. It can be a little unnerving. Like some kind of extinction event has taken place and nobody bothered to tell you.
It was on a crowded Valloire supermarket shelf that 'Alan' was discovered. A short, cheeky, beret wearing Marmot that whistles on command. Oh la la. Shamefully, I don't have any photos of Alan on the journey, except the below photo of Julie taking his photo with a bunch of his less swanky cousins. Somewhere on the far side of Col de L'Iseran.
Otherwise, as I've said above, photography was fairly standard fare for mountains. Stop the bike for five mins, take a few quick shots with the phone, continue on.

One of our final stops in the mountains (because I'm not really sure if where we were going next was still 'in the mountains') was at the establishment whose owner has come to be known affectionately as "the tartiflette lady". Following our first stop there while on honeymoon in 2014, where we both experienced tartiflette for the first time. Long story short, no tartiflette this time around. But it's still a pretty unbeatable place to stop. I'm not telling you where it is, because I don't want the place constantly booked up for the next hundred years.
But what's this? Lightning strikes twice! Oh yes. At this point I discarded all notion of ever having to follow through on my threat to add a corkscrew to the bike toolkit.
From Bourg-Saint-Maurice we headed north-east back into the hills, instead of our normal route deeper west into France. Whenever we're away, and somewhere in the Alps, I always feel like I should be going into Switzerland more. I have tended to mostly avoid it due to change in currency, not speaking any German (or indeed that mad Swiss-German stuff they speak in some parts of the country), the exorbitant fees charged to use the motorways and somewhat due to the perception that the majority of Swiss towns dislike bikers. Or maybe the biker dislike thing is specific to certain areas. Anyway, whenever I've crossed the Swiss border, I've usually planned on crossing it again before the end of the day and resting my weary bones in any of the neighbouring countries.
For the above reasons, I really haven't had the opportunity to ride many Swiss passes. Mostly just those that either begin or end in either France or Italy. I know I'm missing out. Maybe it's getting time to branch out a bit, now that I've done practically all of the French passes at least twice?
Anyway, bucking the trend for one year at least, we set our sights on a night in Lausanne on the north side of Lake Geneva. That meant a slow but scenic ride around the lake, through many towns large and small and past a surprising amount of vineyards. Switzerland has a wine industry? Indeed it does! But something like 80% of the finished product never makes it outside the country. What does make it out doesn't seem to travel much farther than their direct neighbours. Shame. Maybe. I can't really say.
We'd chosen to stay in Lausanne on the Swiss equivalent of St. Patricks Day. Some big Swiss national holiday. I imagined Lausanne would be a hive of activity. Buzzing with people on the streets, festival kind of stuff. On arrival, it was possibly predictably Swiss. Quiet, reserved. The only ones on the street were the drug dealers we passed by on the way to a nearby craft beer place for dinner, and drinks of course. Drug dealers aside, because every city has them, Lausanne seemed like a very nice place indeed.
Avoiding any motorways (for reasons above), we made our way back to France through the wilderness, pretty much an 'as the crow flies' route to the border. We found a nice spot up at Lac de Joux. Somewhat secluded but still enough hotels and restaurants that made it a candidate for a future one-nighter. Back into France through the cutest little border crossing I've ever seen and swiftly back onto French motorways to continue our journey onto Dijon.
Stayed at Hotel de Paris in the center of Dijon. A very convenient but entirely no frills affair. It fit the two most important criteria; bed and somewhat secure parking. Dijon is another lovely place to stay for a night or two. Get into the hotel, stroll around. Couple of tasty French craft beers in Les BerThoM and a spot of dinner. Good going for a transit day. Certainly not the warm beer and plate of soggy chips in a motorway hotel I'd have ended up with if I'd been on my own.
Another transit day in Reims, a city which in the same fashion as Dijon, is quickly becoming a favorite for the one night transit stays. Or two night extended transit stays. I was quite impressed with Reims on our first multi-nighter here (in 2014?). How much my favour was influenced by the quantity of champagne I'd consumed during the tour of Mumm, I cannot comment on. It's an easy kind of place to stay relatively close to the city center, then walk in for some dinner and of course a couple of local beers.
Brugge is as Brugge always is, like a poorly cut indie film that has hastily been put back together with several important scenes missing. I believe on this occasion, the early afternoon beers led to longer than average mid-beer snooze. Then, on waking up still drunk, finding the most accessible option is chips and whatever batter shrouded mystery meat they're serving today. It's a while coming, but I fear that after the 2016 stop in Brugge, I may have seriously diminished my stock of 'Brugge points' in the eyes of my ever patient wife.
Alas, that was 2016. Another lap around the sun and another lap around France. Outstanding. Roll on July.